Game Developers Week
March, the month that welcomes Spring, longer days, and the influx of game developer geeks to the Bay area. Yes, last week was the
Game Developers Conference
here in San Francisco at the
Moscone
center and what an action packed week it was for me.
Tuesday
was a full day of meetings with folks in town for
GDC
followed by a gala event at the Consulate General of the Netherlands office, and a Silicon Vikings (Scandinavian game developers) after party.
I'd like to thank
Natasha
Chatlein
,
Senior Science & Technology Advisor with the Netherlands Office for Science and Technology,
for the invite to the consulate event and I expect multiple visits to their office in the future. I mean who can pass on hanging with friendly smart people in an office with a breath-taking view of downtown San Francisco.
Wednesday
was Dutch Interaction Day that started with an invite only tech-focused breakfast followed by a
Gaming for Real World Workshop
I hosted here at our
SOMA
office later in the day. The focus of the workshop was to share with a Dutch delegation that was in town how web3D and gaming technologies are being used by companies to add efficiency to real world industries.
First up to this crowd of about forty people was
Maribeth Back
. Maribeth presented the research work being done at
FXPAL
with
TCHO
chocolate factory using mobile, virtual, and augmented reality technologies. Maribeth always has the most amazing demos to show and the work her team is doing will change the way factory owners and operators interact with their facilities. She displayed an iPhone app that controls factory machines, a digital factory that allows for multi-user collaboration, and an augmented reality app that helps with factory floor planning and machine placement. See the video below for a past interview with Maribeth.

I went next with a variety of examples of how web3D and the open standard X3D are being used in real world scenarios. The slides below are a close enough example of what I presented.
Up next was Anders Muller with
Climate Action Map
that presented how gaming technologies and 3D visualization can be used for helping cities plan and promote 'green' city initiatives. Climate Action Map enables visitors to learn about initiatives that cities and municipalities around the world are implementing to reduce their climate impact. As stated on their site, "We hope that this website will help educate people, companies and governments of the many innovative solutions that are being implemented at the local level to reduce CO2 emissions and adapt to the impacts of climate change."
Last up was Greg
Howes
, CEO of
IDEAbuilder
that talked about how his company is using mixed reality technologies including gaming tech and robotics to add efficiency to the home building process. Greg presented compelling examples of how game technologies are helping the American building industry and even had a demo of an interactive 3D house where the user could interact with elements in the scene to access information on building parts, materials, and a feature that allows for customization their living space.
Many thanks again to these presenters that made this a great workshop for our visiting Dutch friends.
Thursday was the opening day of the
GDC
Expo floor and I have to say that it was very reflective of the state of the industry. Amidst all the developers, business people, and gaming companies were hordes of those looking for jobs. The show was smaller this year with the conference, exhibition hall, and career pavilion all in
Moscone
South as opposed to last year where the career pavilion was in
Moscone
West and the conference/expo was in
Moscone
North.

Yet despite the tough economic times, those companies that did attend really put their best foot forward.
The
Playstation
mega-booth took center stage with plenty of examples of Sony's new
Wii
-type controller, augmented reality games using these controllers with Sony's Eye
webcam
, in addition to games for stereoscopic 3D TVs.
Unity3D had a bigger presence this year and I would be so bold to state that they are this year's kings of
GDC
. A majority of the conversations I had with or overheard from developers included them building on the Unity platform. The Unity booth was always packed with people, had informative presentations, and a good number of authoring tool examples for people to modify or play with. They announced support for Android and jaw-dropping Unity 3.0 that will be out sometime around summer.
One group I was glad to see debut at GDC was the
Yogurt3D
team. Yogurt3D game engine is a 3D Flash engine that works inside the browser via the Adobe Flash player. I am impressed with the amount of polygons they have rendering compared to other 3D Flash solutions. Keep an eye out for this free tool all you Flash developers.
Other highlights included:
- AR Drone, the
wifi
quadricopter
controlled by iPhone and
iPod
touch.
-Seven45 Studios' 6 string guitar that worked as a game controller or an actual guitar when plugged into an amp, that was cool.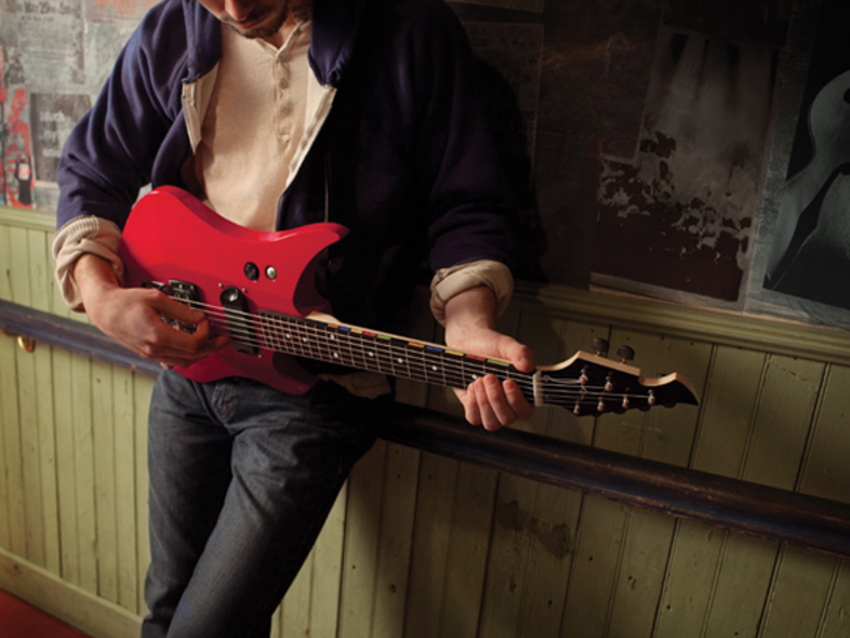 -
VirtuSphere
is a company that solves the problem with unlimited movement in virtual reality environments by putting the user inside a human hamster-ball with rollers on its base. I so wanted to do this but the line was always long. Wonder what the folks in the office will say to us putting one in the corner?
-
Motion Portrait
, a Japanese company, had a very entertaining $0.99 iPhone app that could take a single picture and map it to an animated avatar. Never before have I seen myself singing Dancing Queen by ABBA with an afro for so cheap.
-Beyond Reality
is a Dutch company that specializes in game focused augmented reality applications using mainly image recognition. I commend the CEO for the learning applications and games he has developed with his AR engine. I personally think what he is doing is something that board game creators need to look at if they want to stay competitive and don't even get me started on how this can increase the productivity of the education system.
So in conclusion, even though the whole expo only took a few hours to see, and much of it was nothing new from last year,
GDC
was fun. New business relationships were formed, great conversations were had, and I learned a lot. A great excuse to gamer-geek out and run into friends while keeping an eye on what is cutting-edge in the gaming industry.